I have never tried installing Ubuntu on the Microsoft Virtual PC before, I did successfully on VM ware though. If you don't know what Ubuntu is, please Google it, basically it is a Linux operating system with pretty desktop features. In the Thanksgiving holiday, I used my DELL Dimension 4600i (Windows XP sp3) to explore this option which turned out a good experiment, even Microsoft officially says its Virtual PC does not support Ubuntu.
The following is what I used to install Ubuntu.
Virtual PC 2007, (get it here).
Ubuntu iso image, (get it here).
In the New Virtual Machine Wizard of Virtual PC 2007, you would not see the Ubuntu from the supported Operation Systems list. Just select Other and click Next.
In the next screen, adjust the RAM to make at least 256MB for the memory and 4Gb disk space (I tried 2GB hard disk, but failed). Then you can create a new virtual hard disk file with dynamic assigned size, which means even you set 4GB as hard disk size but the physical size of your virtual hard disk file on your host OS will start from 1kb and grow dynamically when you put more stuffs.
Start the virtual machine and go to CD->Capture ISO image…, then click Action – Reset to reboot the virtual machine. And it should pickup your 'CD/ISO image', you then choose your language and do the install.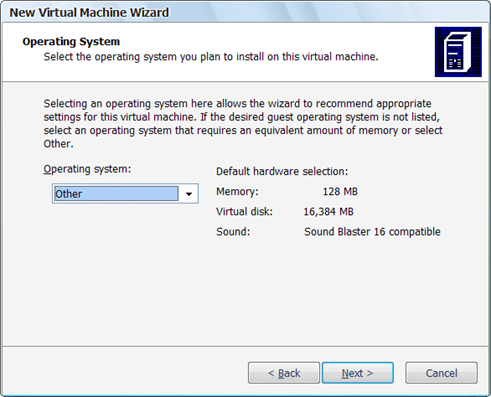 But for whatever reason if you see a strange screen says "Miss NCLR…" like I did the first couple times, hit DEL key at the boot screen to change the boot sequence in the CMOS setup. In my case, I put the CD ROM before the floppy disk then everything is fine.
For me, after that the Ubuntu installed went through without any issues. Except the installation time was a little long, and the virtual machine screen went into black a couple time. At the end, I could see the successful Ubuntu login screen, and the keyboard and mouse worked fine in the xWindow console. But the screen solution is only 800 x 600 and could not be changed.
Internet Tip: If you have any problems with the installation, can try this: When you see the Install Ubuntu menu, (make sure that it is highlighted) . Press F6 and then press esc again to close the menu, you will see a new line at the bottom that will say 'Boot Options' at move your cursor, (with the arrows), to the end of the line. It should say something like "… quiet –", delete that and replace it with " noreplace-paravirt vga=791" and press enter to start the install. Then you install Ubuntu without problems.
And do not expect you can install Virtual Machine Additions from Virtual PC 2007. The VM additions comes with Virtual PC 2007 does not support Ubuntu, you can install it in Ubuntu even it mount it as CD-ROM after you click Install Virtual Machine Additions from Action option menu.
I did not try, but if you want you can download the Virtual Machine Additions for Linux from Microsoft download web site  (http://www.microsoft.com/downloads/details.aspx?familyid=bf12642f-77dc-4d45-ae4e-e1b05e0a2674&displaylang=en). Not sure how much benefits you can gain, but it might resolve some virtual drivers issues, (like the video card one I mentioned earlier or the sound card issue – since I could not hear anything from my Ubuntu Virtual machine at this point).
That's it, enjoy Ubuntu 9.10.
I used dozens of docks on Linux and Windows, and as you know there are really good docks like AWN, Gnome-Do with docky interface, cairo dock, kiba-dock and so on linux.Today i tried DockbarX and fall in love
. It is like Windows 7's taskbar except windows' previews, and you can use it with AWN (i did not try this but i will write the installation guide).Since i am using one gnome panel, it is better for me to delete all the docks i have and add it to my top panel (I am using 12″ notebook with Ubuntu Karmic Koala so i gain more visual space with this task bar
).You can read the features and changelog from here.You can use experimental or stable build, you can install it from Scott Barnes's Launchpad repository, or you can compile latest branch.Since it is actively developed, the package at Launchpad repository is a little old and at this howto we will compile(we won't even compile, just a couple of cp commands
) it from branch.
P.S: NOW you can Subscribe to Am!NeS0Ft's blog by Email
For the ones who want to install ubuntu package or from repository, here is Scott's repository :
https://launchpad.net/~dockbar-main/+archive/ppa
For the others who want to install from the branch, let's start :
We are going to create a SVN/DockbarX directory on your home, and install required packages :
$mkdir -p ~/SVN/DockbarX
$sudo apt-get install bzr python-gnome2-desktop python-numpy
Now navigate to ~/SVN/DockbarX and download the branch :
$cd ~/SVN/DockbarX && bzr branch https://code.launchpad.net/~dockbar-main/dockbar/experimental && cd experimental
Instead of compiling we will move a couple of files, and create some directories etc :
$sudo cp dockbarx.py /usr/bin/
$sudo cp GNOME_DockBarXApplet.server /usr/lib/bonobo/servers/
Now we will create a folder (~/.dockbar) and copy launcher_icon.png to this folder.For sistem wide installation you can copy it to /usr/share/pixmaps/dockbar (create if it does not exist : $sudo mkdir -p /usr/share/pixmaps/dockbar ) :
$mkdir ~/.dockbar && cp launcher_icon.png ~/.dockbar
After this, right click to a gnome panel, and select "Add to Panel".Then select Dockbar Applet and click "Add".You can move it to anywhere you want and you can find its preferences menu via right clicking the applet.
Here are some screenshots from Karmic Koala with Windows 7 theme (default properties , i did not touch anything at preferences for now.If it looks ugly, please blame the author of the Windows Vista icon pack
) :
AWN installation guide (i did not try this, i am taking it from gnome-look's page) :
1. Do a normal install (no need to add dockbarx to panel if you don't want to, of course).
2. Copy everything from the AWN folder to ~/.config/awn/applets
3. Remove original taskbar/launcher applet from awn (optional, but recommended)
4. Set 'Icon offset' parameter to 0!
5. Restart AWN
6. Add DockBar applet
7. if you need wallpaper  downlowd WallpaperPack click here
When opening or running Task Manager, the Task Manager top-level menu bar and tabs may be missing and disappeared from its window. Typically, Task Manager has the menu bar which has File, Options, View and Help pull-down options, and various tabs to display and show details on Applications, Processes, Services, Performance, Networking and Users. The problem is now all these menus and tabs are gone missing.
Actually, the clean Task Manager with 'missing tabs and menus' user interface is not an error nor a bug. In fact, it's a feature of Windows.
Task Manager to run in tiny foot-print compact mode. In compact mode, not only the menu bar and tabs are hidden, the top and bottom window border frames which contains Minimize, Maximize and Quit/Exit buttons and status bar also go into hidden and not visible.
In fact, anybody can cause Task Manager to go into small footprint mode by simply double clicking on the empty space around the border and empty space in the border around the tabs of Task Manager. The area to double click to switch to tiny footprint mode is illustrated in the figure below in red color
To revert and restore Task Manager to default full mode and get the menu options, tabs, status bar and other buttons back, just double click on the empty area around the border of Task Manager window again. See illustration below with area in blue for the location to double click.re the red-mark is present).
Compaq presario CQ61-310EN laptop.
this computer is without OS, when im trying install Windows xp on it, it sows Error code : STOP: 0x0000007B, i think sata drivers is neded, right?
but i can't find those drivers. im not going to install Vista.
Here more info about this mashine:
Product number: VJ539EA#B1R
System board ID: 363F
Bios version: F.03
Bios Vendor: Insyde
Serial number: CNF937159P
link to the RAID driver:
http://game.amd.com/us-en/drivers_ca…ntegratedip-xp
Scroll down to RAID
The folder you want is the X86 for XP32Bit
You will have to slipstream the driver to a "custom" XP CD
Here is a good guide:
http://www.howtogeek.com/howto/windo…-installation/
Seeing that there is not much info, I would advice you to download and run Everest (a link is under my signature) once you have XP installed. Post the FULL report to the thread so we can find the rest of the drivers.
Note: HP only list Win7 drivers for this model
Ubuntu 9.10 Desktop
Karmic Koala's desktop should be familiar to Windows users. Right-click menu shortcuts and personalizing the desktop features are similar to Windows 7. The desktop still isn't as "glitzy" as Windows 7, but users can get the eye candy of Windows 7 with a fast graphics card and can choose the "Extra" settings in Ubuntu 9.10's "Appearance Preferences."
Ubuntu's Command Line Interface
Experienced Linux users are familiar with the command line. One can argue that it's Windows that is the one getting up to speed with the power of the command line, especially with Server 2008's Power Shell. Here is the Terminal screen in Ubuntu 9.10, which provides a robust environment for executing scripts and commands.
E-mail And Calendaring
Ubuntu 9.10 comes with an e-mail and calendaring client with features that are available only in Outlook and not in Outlook Express. Evolution mail client and calendar can be used to sync up IMAP and SMTP e-mail accounts. Users can import vCards, .csv, vCalendar and other messaging file formats into Evolution.
No surprise here. Ubuntu's answer to Windows 7's Internet Explorer is Firefox version 3.5.3.
A user would have to have a locally installed full version of Microsoft Office to get the same feature set provided by Openoffice.org's Impress, Writer and Spreadsheet, all of which are installed by default with Ubuntu 9.10.
Ubuntu's 'App Store'




Perhaps more of a feature associated with Apple than Windows, Ubuntu 9.10 replaces the Add/Remove feature in the Applications menu with the more contemporary Ubuntu Software Center, with the big exception being that the software is free.

System Testing

Microsoft beefed up system problem detection and remediation in Windows 7 with the Troubleshooting feature in the Control Panel. Ubuntu has its own troubleshooter in the form of "System Testing." This utility tests a variety of components such as audio and video for problems and suggests configuration changes to optimize performance.

System Monitor


System Monitor is Ubuntu's counterpart to Windows' Performance Monitor. As in Performance Monitor, System Monitor allows users to track processes and system resources such as CPU usage and network traffic.

Network Tools


Ubuntu 9.10 comes with a native Network Tools client that gives users a bit more information about network status than is available within the Windows 7 GUI alone, such as Port Scans.

Terminal Services


Ubuntu 9.10 has both a Terminal Services client and Remote Desktop. Here, we are using Terminal Services to remotely and effortlessly connect to a Windows Server 2008 machine.
This software is used to track the logs of IIS and apache and displays reports.
In-house Flexibility: Configure Urchin to fit your specific requirements and process/reprocess log files as frequently as you wish.
Great for intranets: Analyze firewall-protected content, such as corporate intranets, without any outside internet connection.
Pagetags or IP+User Agent: Choose which methodology works best for you. You can even have the pagetags make a call to your Google Analytics account and run both products together allowing you to audit the pre and post processed data.
Advanced Visitor Segmentation: Cross segment visitor behavior by language, geographic location, and other factors.
Geo-targeting: Find out where your visitors come from and which markets have the greatest profit potential.
Funnel Visualization: Eliminate conversion bottlenecks and reduce the numbers of prospects who drift away unconverted.
Complete Conversion Metrics: See ROI, revenue per click, average visitor value and more.
Keyword Analysis: Compare conversion metrics across search engines and keywords.
A/B Test Reporting: Test banner ads, emails, and keywords and fine-tune your creative content for better results.
Ecommerce Analytics: Trace transactions to campaigns and keywords, get loyalty and latency metrics, and see product merchandising reports.
Search engine robots, server errors and file type reports: Get the stuff that only log data can report on.
Visitor History Drilldown: dig into visitor behavior with the ability to view session/path, platform, geo-location, browser/platform, etc. data on an individual-visitor basis (note: this data is anonymous).
| | | |
| --- | --- | --- |
| Feature | Urchin 6 | Google Analytics |
| Install and manage on your own servers | Yes | No |
| Can be used on firewall-protected corporate intranets | Yes | No |
| Reprocess historical data (from logfiles) | Yes | No |
| Can process/re-process your log files locally | Yes | No |
| Can collect information through tags | No | Yes |
| Reports on robot/spider activity | Yes | No |
| Reports on server errors/status codes | Yes | No |
| Tightly integrated with AdWords | No | Yes |
| Can report on paid search campaigns | Yes | Yes |
| Ecommerce/Conversion reporting | Yes | Yes |
| Geotargeting | Yes | Yes |
| Free | No | Yes |
| Visitor session/navigation path analyses | Yes | No |
| Raw data accessible for custom report-building | Yes | No |
| Exclusively supported by authorized consultants | Yes | No |
AWStats is short for Advanced Web Statistics. AWStats is powerful log analyzer which creates advanced web, ftp, mail
and streaming server statistics reports based on the rich data contained in server logs. Data is graphically presented in
easy to read web pages.
Designed with flexibility in mind, AWStats can be run through a web browser CGI (common gateway interface) or directly
from the operating system command line. Through the use of intermediary data base files, AWStats is able to quickly
process large log files, as often desired. With support for both standard and custom log format definitions, AWStats can
analyze log files from Apache (NCSA combined/XLF/ELF or common/CLF log format), Microsoft's IIS (W3C log format),
WebStar and most web, proxy, wap and streaming media servers as well as ftp and mail server logs.
AWStats' reports include a wide range of information on your web site usage:
* Number of Visits, and number of Unique visitors.
* Visit duration and latest visits.
* Authenticated Users, and latest authenticated visits.
* Usage by Months, Days of week and Hours of the day (pages, hits, KB).
* Domains/countries (and regions, cities and ISP with Maxmind proprietary geo databases) of visitor's hosts (pages, hits, KB,
269 domains/countries detected).
* Hosts list, latest visits and unresolved IP addresses list.
* Most viewed, Entry and Exit pages.
* Most commonly requested File types.
* Web Compression statistics (for Apache servers using mod_gzip or mod_deflate modules).
* Visitor's Browsers (pages, hits, KB for each browser, each version, 123 browsers detected: Web, Wap, Streaming Media
browsers…, around 482 with the "phone browsers" database).
* Visitor's Operating Systems (pages, hits, KB for each OS, 45 OS detected).
* Robots visits, including search engine crawlers (381 robots detected).
* Search engines, Keywords and Phrases used to find your site (The 122 most famous search engines are detected like
Yahoo, Google, Altavista, etc…)
* HTTP Errors (Page Not Found with latest referrer, …).
* User defined reports based on url, url parameters, referrer (referer) fields extend AWStats' capabilities to provide even
greater technical and marketing information.
* Number of times your site is added to Bookmarks / Favorites.
* Screen size (to capture this, some HTML tags must be added to a site's home page).
* Ratio of integrated Browser Support for: Java, Flash, Real G2 player, Quicktime reader, PDF reader, WMA reader (as
above, requires insertion of HTML tags in site's home page).
* Cluster distribution for load balanced servers.
In addition, AWStats provides the following:
* Wide range of log formats. AWStats can analyze: Apache NCSA combined (XLF/ELF) or common (CLF) log files,
Microsoft IIS log files (W3C), WebStar native log files and other web, proxy, wap, streaming media, ftp and mail server log
files. See AWStats F.A.Q. for examples.
* Reports can be run from the operating system command line and from a web browser as a CGI (common gateway
interface). In CGI mode, dynamic filter capabilities are available for many charts.
* Statistics update can be run from a web browser as well as scheduled for automatic processing.
* Unlimited log file size
What is AWStats / Features Overview 2/87 13/04/2008
* Load balancing system split log files.
* Support 'nearly sorted' log files, even for entry and exit pages.
* Reverse DNS lookup before or during analysis; supports DNS cache files.
* Country detection from IP location (geoip) or domain name.
* Plugins for US/Canadian Regions, Cities and major countries regions, ISP and/or Organizations reports (require non free
third product geoipregion, geoipcity, geoipisp and/or geoiporg database).
* WhoIS lookup links.
* Vast array of configurable options/filters and plugins supported.
* Modular design supports inclusion of addition features via plugins.
* Multi−named web sites supported (virtual servers, great for web−hosting providers).
* Cross Site Scripting Attacks protection.
* Reports available in many international languages. See AWStats F.A.Q. for full list. Users can provide files for additional
languages not yet available.
* No need for esoteric perl libraries. AWStats works with all basic perl interpreters.
* Dynamic reports through a CGI interface.
* Static reports in one or framed HTML or XHTML pages; experimental PDF export through 3rd party "htmldoc" software.
* Customize look and color scheme to match your site design; with or without CSS (cascading style sheets).
* Help and HTML tooltips available in reports.
* Easy to use − all configuration directives are confined to one file for each site.
* Analysis database can be stored in XML format for easier use by external applications, like XSLT processing (one xslt
transform example provided).
* A Webmin module is supplied.
* Absolutely free (even for web hosting providers); source code is included (GNU General Public License).
* Works on all platforms with Perl support.
* AWStats has a XML Portable Application Description.
Requirements:
AWStats usage has the following requirements:
* You must have access to the server logs for the reporting you want to perform (web/ftp/mail).
* You must be able to run perl scripts (.pl files) from command line and/or as a CGI. If not, you can solve this by
downloading latest Perl version at ActivePerl (Win32) or Perl.com (Unix/Linux/Other).
reference : http://awstats.sourceforge.net/